There is an app for every human need. If you want to read books online, you have an app. If you want to order food or buy groceries, you have an app. From buying apparel to accessories to binge-watch, booking your vacation, and managing your finances, health and now you have an app for educational purposes as well.
Introduction
The Post-pandemic effect hasn't been reduced. There are several educational institutions that have reduced activities or offer learn-from-home approaches. The remote mode of working is pretty much in vogue whether it's education or any other industry. In fact, education can be clearly stated as one of the most crucial industries that have met some radical changes or should I say challenges. However, is it a boon or a bane, time to find out! The following post focuses on how to build an educational app, how they can be beneficial and how much does it really cost in developing one. So without wasting any more time, let's get started!
First and foremost, let's have a look at the below image: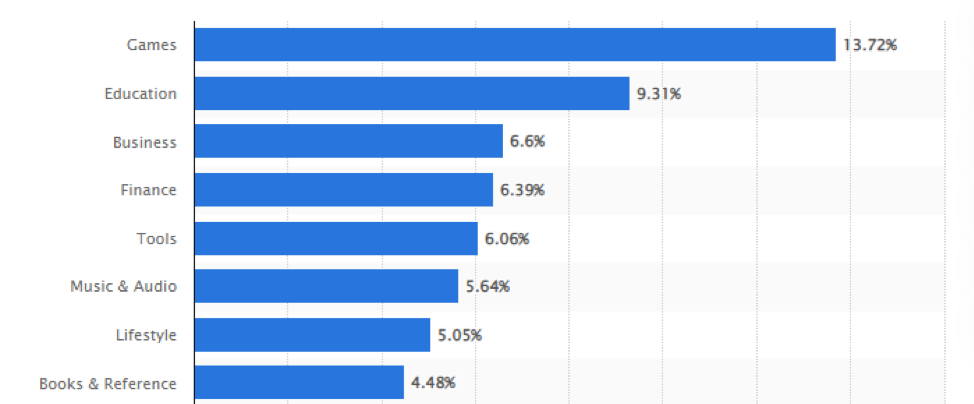 Source: Statista
According to Statista, you can see that the education industry is ranked as the second most popular one among the Google play store. So to be precise, if you built a successful educational app, you are bound to hit a jackpot. In fact, the previous year we witnessed education-based mobile apps were ranked with a 10.47 percent share. So why the heck should one not create an educational app?
Now have you ever come across apps such as Duolingo, Google Classroom, and Brainly? Well, to be precise, these are some of the best educational apps found across the globe. It's time for you to take the bait and get started with your educational app development project.
Now how can an educational app be beneficial?
Benefits of Educational Apps
#1 Seamless Access
You see after the COVID pandemic, it seems to have been insanely tricky to gain education from the institute itself. As a result, the concept of e-learning seems to be making a huge mark all across the globe. And no wonder, with the easy access to mobile phones and smart devices, the popularity of educational apps turns out to be growing at a fanatic pace. After all, these apps can be easily downloaded and get started with. Apart from being easily accessible, these educational apps enable end users whether they are teachers or students to make the most of it irrespective of their current location. The teacher might be located in a different country, but still, the student can receive a proper education.
The apps enable everyone to communicate with anyone globally and receive an adequate amount of learning.
#2 Enhanced Customer Engagement
Another benefit of these educational apps is enhanced customer engagement. Also, not to mention that these types of applications are more and more energizing and entertaining. You see there was a time during the pandemic when educators were found struggling enough to compel students to take their classes attentively. You see we have always been well-acquainted with the theory of studying in a physical class but since that wasn't feasible during the pandemic, slowly and steadily educational apps started gaining popularity.
And since these classes started taking place on the respective smart devices, students became automatically interested like never before. In fact, most educational apps consist of interactive images, stories, videos, PPTs and a lot more! As a result, what's more you need!
#3 24/7 learning
Another significant benefit of using these educational apps is that here information is accessible 24/7. Yes, such apps are accessible at any point in time. Also, in case, if a student misses a period due to any reason, the app automatically provides notification and they can attend the recorded class at any point in time. Here one student is not responsible to take notes from another, especially for missed periods and classes. In fact, here they also have the option to download the lecture and go through it whenever and from wherever they feel like.
In addition to 24/7 easy accessibility, these apps tend to incorporate a wide range of interactive methods. Here it's no longer one-way communication, it's two-way communication. Also, since there are more and more interactive sessions, students do not tend to miss or bunk the classes. They can attend to them comfortably in their respective homes.
In addition to this, there are several benefits such as time and high-end flexibility, a wide range of choices, saving ample of money, high-end efficiency, everything is simple and easy to use and a lot more!
So basically who uses these educational apps?
Kids of all ages, of course!
Pupils or students who are applying for specific university programs
Those who love educating themselves every now and then
Those who are willing to master necessary skills, especially the one which is required for their current jobs
Institutions who want to be more innovative with their learning programs
Types of Educational Apps
Learning platforms
Learning apps for a precise subject
Educational based games
Learning management system (LMS) apps
Classroom education apps
Apps specifically for kids
And here comes the big question, how to create a successful educational app?
How to Develop an Educational App and How Much It Costs?
Further down below I would like to mention a step-by-step guide that can assist you well in conducting your first educational app development project. So without further ado, let's get started!
#1 Decide on what are you willing to offer
Go through the aforementioned types of educational apps available around and see what exactly you are willing to provide to your end users. Much like any other industry, even the education industry has a lot to offer. When it comes to ideas, I am pretty sure there must be a lot going on in your mind. Well, first and foremost you must consider what are the needs and requirements. Then see whether you want to offer an AR-based educational app or would you like to create something for handicapped kids, apps for a personal tutor, educational games and quizzes, Q & A based apps, Vocabulary enhancer apps, apps for improving math, storytelling apps and whatnot!
As soon as you decide what you are willing to make, it's time to determine exactly what functionalities and features you would like to include in the app development project. Of course, here you can start looking for reliable educational app development companies around.
Now let's say you want to build an interactive-learning application for your end users. What can be done? Simple, first you need is to incorporate as many languages as you can for your students to grasp and get attracted to the app. Try integrating more and more interactive-based activities, videos, tutorials, audio and a lot more.
#2 Try offering more control to the end users
Another interesting step that must be taken into account anyhow is. For whom you are developing such an app, for your end users right? Well, so try offering them as much control as you can. By offering them easy access and control, nothing can stop them from vouching or going gaga about your app development project.
What else can be done here? Since it's an education app, content is pretty much at paramount. Yes, content has to be pretty well-optimized for students. There should be no scope for biases. Also, try making the app features more and more personalized and customized for the end users.
In addition, do not forget to create a better onboarding experience. Because you may realize this or not but a poor user experience can definitely lead to becoming a major turn-off.
#3 Features and functionalities
Now exactly what type of features and functionalities must be included in developing an educational app? Well, once you have determined what type of application you want to create then you need to start looking for similar types of apps available in the google play store and Apple play store. See what types of features and functionalities these applications possess and then you do the job.
For example, you can have audio-video based content, live sessions and classes, interactive courses and learning, offline courses, educational-based games, brain-enhancement games, push notifications, group chat and in-app discussions, downloading lectures, dashboard easily accessible for students as well as their respective guardians, exams, tests and other interactive activities, tracking their progress and a lot more.
#4 Figure out the Tech stack
The app development realm is extremely big. It comprises a variety of tech stack and here making the right choice turns out to be extremely important. For example, if you are planning to develop an educational app for an Android iOS-based platform then you need a tech stack that comprises Swift and Objective-C programming languages and Xcode IDE.
For Android, we can consider Java and Kotlin languages, Android Studio IDE, and Retrofit REST client. Also, here you need to determine whether you are willing to create a native educational app or cross-platform-based app. Now how are they different?
Most of the native apps comprise of:
High price
High requirements of developers
Scalability and flexibility and robustness
Cross platform apps consider:
Low overall prices
Animations and 3D objects limitations
However, You can always opt for a reliable and reputable software development company that has high-end experience of developing such applications for their valued clients. And now comes the very crucial part, how much does an educational-based app development project cost?
Well, to begin with, there is no cookie-cutter or a predefined answer to this question. A mobile app development costs often vary depending on what features and functionalities you are willing to incorporate here. For example, if you are creating a basic educational app for kids, the entire process might take 2100 hours to complete but you need a team of front-end developers, UI/UX designers, managers and testing. So the cost definitely goes up.
I am not trying to scare you but if you are trying to develop a successful app, it is definitely going to cost you unless you end up hiring offshore software developers to do the job. In addition you can think of ways to monetize your app such as:
Try developing paid apps
Try earning by offering large subscriptions
Freemium apps must be taken into account
In-app ads
Use disruptive technologies such as AR, VR and AI
Time to turn your mere ideas into Reality
And we are done here! Education apps or the need for educational apps is not going to slow down. So if you want to make the most out of this lucrative industry, it's time to jump right now! I hope you did find the following post worth a read. Drop us a comment and share with us what you like and what you disagree with and let's make this process of sharing information more and more exciting.
In case, there are any concerns or doubts regarding the topic, feel free to let us know and we will try our best to clear your doubts. Good luck with your app development procedure.