If you have a scanned image containing text and want to convert it to machine-readable text files, then you'll need an OCR tool. Before you can use an OCR tool, you need to know what it is and how it works.
These software applications read text from images or files and can convert them into searchable text. There are several benefits to using an OCR online tool and this article will help you understand them all.
In this article, we'll go over the OCR technology and OCR online tool and its benefits. Also, we'll explain how you use the OCR tool.
➢   What is OCR
Optical Character Recognition abbreviated as OCR is the digital way of identifying text from images. OCR technology is simply used to convert images into text. OCR technology uses a computer program that recognizes text and images and applies rules to distinguish between them.
Characters are broken down into basic shapes and a program uses this information to determine whether or not they are a capital letter or a lowercase letter. The program creates an internal library of possible characters and patterns.
These associations allow the software to recognize a greater percentage of characters. As a result, the OCR will be more accurate with every character in your document.
OCR technology enables the search and extraction of text from images. OCR also allows you to search through unstructured text, index data and pull up specific keywords.
Compared to manual data entry, OCR offers better security, as the information is stored digitally. This ensures data recovery and encryption. OCR software also eliminates manual data entry. In fact, you can now automate many tasks with an OCR.
➢    OCR Tool
The first OCR font was developed in the 1960s and was called OCR-A. OCR tools are software applications that recognize printed text and numbers and extract them from scanned documents.
The tools can be a great benefit for those who frequently need to retrieve a large number of documents for various purposes. Some are designed to be used with documents that contain high amounts of data. While others are designed to handle documents with limited information. Regardless of your needs, an OCR tool will make your life easier.
A good OCR online tool can recognize multiple formatting elements, such as text, images, and fonts. It will retain the original layout and format of a document and may even recognize images. It also has an in-built spelling checker.
Online OCR tools can also capture images from documents, saving you the trouble of importing them separately. It also highlights possible errors and extra text in specific portions of the document. Once converted, the OCR stores text in a TXT or DOC format
➢   How does the OCR Tool Works?
The basic concept of OCR is that an image containing a series of alphanumeric characters is compared with OCR online databases and recognizes the characters by matching.
Therefore, by comparing this character to a database of stored characters, the tool can recognize it. The process also uses the same font and scale, which make it possible to match the characters of a document to one another.
The process of OCR online tool starts with the detection of words and lines of text. This initial stage sets the stage for character recognition. The software then analyzes the characters and identifies their most common features.
Online OCR also works to correct broken and merged characters, which can reduce their accuracy. In this process, the software works to recognize as many words and sentences as possible, while removing any redundant features.
➢    Benefits of Using OCR Tool
There are many benefits of OCR technology, which is gaining popularity in every walk of life. Once you understand these benefits, you can use an online OCR tool to convert your images in textual form.
Optical character recognition is a technology that allows you to decipher the text from images. It uses computer vision and other advanced techniques to recognize text in documents.
It has several advantages over physical documents, including greater security, accessibility, and flexibility. Optical character recognition software is widely available and is useful for a variety of different situations. It is available for consumers and business users alike.
OCR software automates the conversion of text images into machine-readable data. The resulting data can be used for data mining, data extraction, and even text-to-speech technology.
Businesses that use OCR software are saving resources and time by eliminating manual data entry. OCR is also easier to use than other text-processing technologies. By using OCR software, you can make formerly inaccessible data accessible to more people.
➢   How to Use OCR Online
Using the OCR tools such as the OCR online is as simple and easy as a piece of cake. You don't have to give any complex commands to get your text out of images using the tool.
It requires a convenient two step procedure i.e. uploading and downloading. However, the detailed process which can help you better using OCR online is described below.
●     Browse OCR Online
First step in converting images to text involves launching a credible and best tool on your device. For this purpose open OCR Online website where you can also find guidelines on using this tool.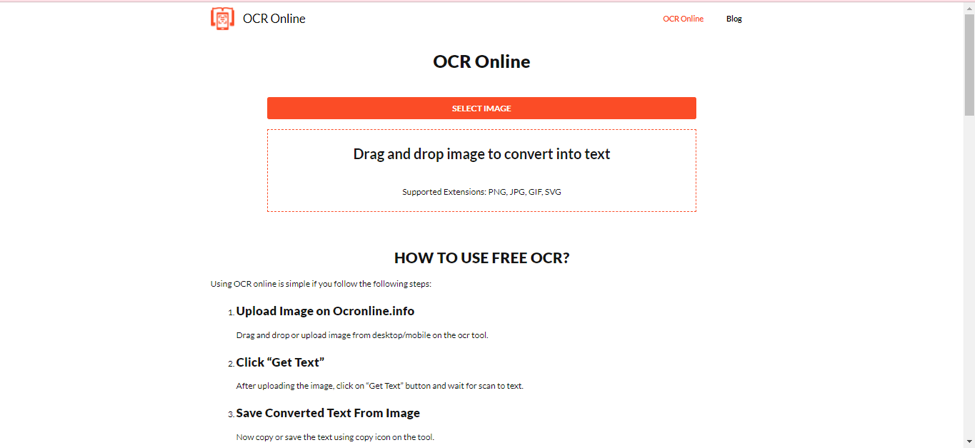 ●     Upload Image
As soon as you land on the OCR tool simply upload your image in the provided field. You upload either by drag and drop method or by simply selecting the image from your device.
●     Get Text
Simply now hit on the "Get Text" option located beneath (highlighted in blue color).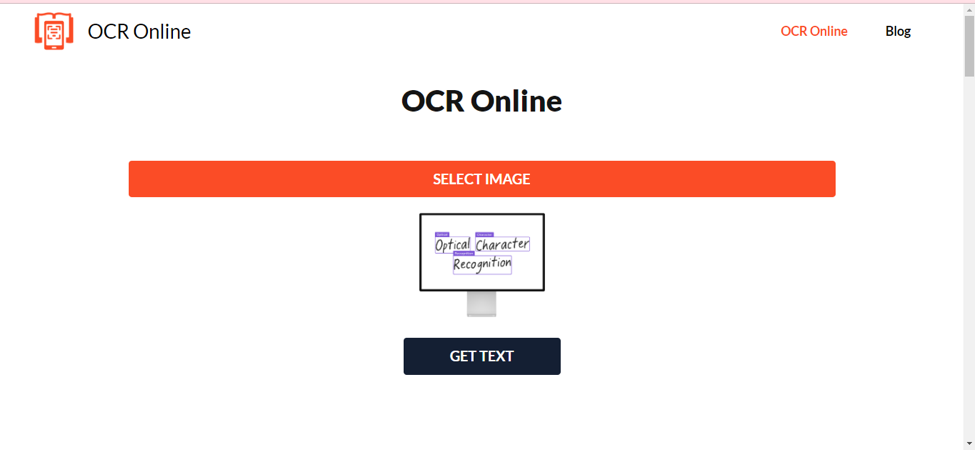 ●     Save Text
Lastly, you can get your text from the image on your device by saving it. You can easily by just copying the text via single click.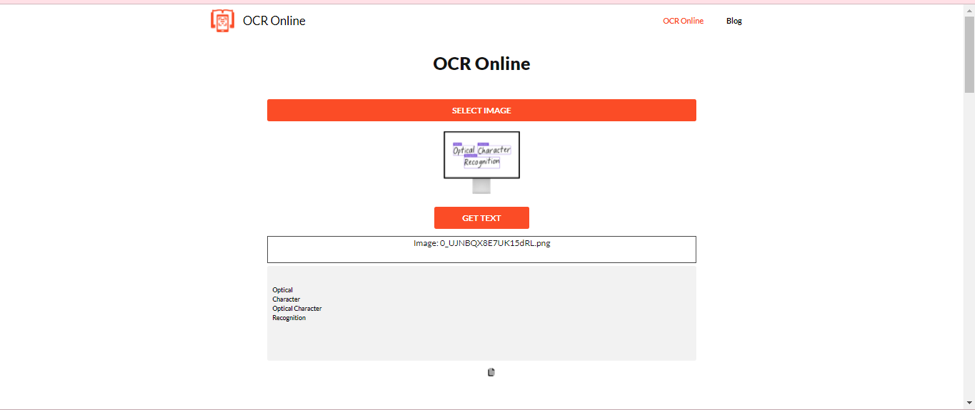 Conclusions
OCR stands for optical character recognition. It's a technology that allows you to convert any photo or printed or digital image into text, which is much quicker than typing by hand.
This technology is also used to increase your operating speed and productivity. There are many tools that can help you make the most of this technology. However, OCR online can provide you with the most accurate results.