Many people wonder how to engage in the Metaverse as we enter this new era of virtual worlds and digital currencies. Create a Metaverse corporation
However, before launching a Metaverse development company, you should undertake market research to evaluate numerous elements such as your entry strategy, Metaverse platform selection, and much more. In this post, we also go over the advantages of launching a Metaverse business and how to get started in the Metaverse.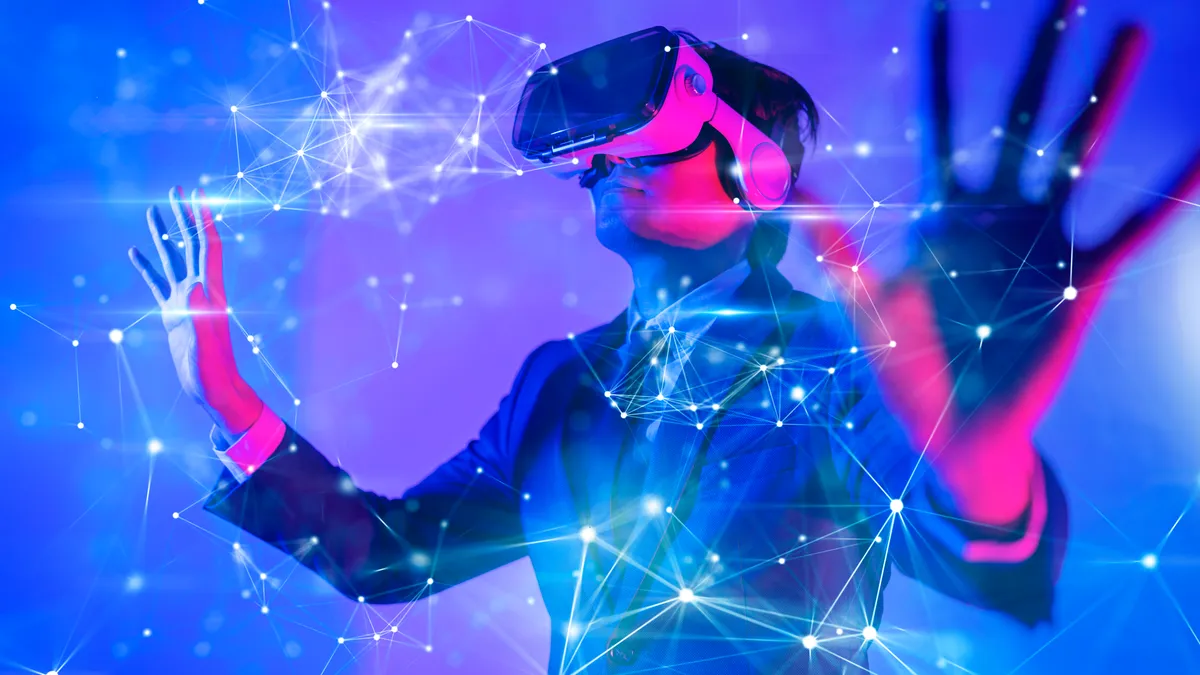 Why Establish a Company in the Metaverse?
People have made purchases offline by visiting stores and events for a long time. With the growth of eCommerce platforms, many buyers moved their assets to the internet. Globally, there are around 2.14 billion digital buyers. The eCommerce space was dominated by 2D interfaces that displayed prices, static graphics, and product listings.
The Metaverse intends to take this further by providing an immersive virtual space where businesses can completely engage with their customers.
The Metaverse provides a new platform for businesses to connect with users worldwide. Most metaverses feature built-in virtual economies where users may buy digital and real-world goods, giving it a lucrative possibility for many companies.
For example, Gucci and Nike have already created metaverses where users can enter the Metaverse, play games, shop for digital accessories, and make real-world purchases. Nickel has been visited by approximately 7 million individuals, demonstrating the potential of the virtual area.
Tech titans like Meta also focus on establishing virtual workspaces where people can attend conferences, training sessions, and other events. As we transition to a remote workspace future, the Metaverse will play a crucial role in altering how people interact online.
For example, you can use a VR headset to join the Metaverse, visit a virtual conference room, and then return to your virtual office to complete day-to-day tasks. The Metaverse allows people to engage without boundaries and establish borderless communication. This can greatly assist Metaverse enterprises wanting to realize the new digital revolution's possibilities fully.
How to Launch a Metaverse Company in 4 Easy Steps
If you're wondering how to create a business in the Metaverse, follow the steps below:
Step 1: Create a Customer Persona.
Determine the type of customers you want to interact with. A consumer persona includes information like demographics, spending power, interests, and preferences. This will assist you in determining the best technique for connecting with your customers. For example, if your clients enjoy sports, having a sports game-based setting within your virtual store could help you increase conversions.
Step 2: Understand the Virtual Environment
Many organizations still need to familiarize themselves with digital currency and three-dimensional settings. Conduct an extensive study to discover more about the many Metaverse platform benefits. Decentraland and Sandbox, for example, are built on the Ethereum Blockchain, but the Pavia metaverse is built on the Cardano Blockchain.
Customers must pay significant 'gas' (transaction) fees to mint their NFTs on the Ethereum Blockchain. This could be a deterrent to making large purchases. Thus it's worth looking into other platforms instead. Each forum has its in-game currency, which can be swapped for real-world money on several cryptocurrency exchanges.
Step 3: Develop Various Marketing Channels
Many firms have already begun experimenting with various marketing channels to advertise themselves. On the other hand, marketing in the Metaverse will be tough because firms must raise awareness of their virtual areas.
A comprehensive Metaverse corporate marketing strategy would be required to attract the correct audiences. It would help if you had a strong digital presence before entering the Metaverse.
Step 4: Begin Your Virtual Adventure
Its Metaverse entry plan determines a company's steps to get started. If your organization intends to develop and sell digital assets, listing on a secondary marketplace such as Opensea might be an excellent idea.
However, if you want to establish a virtual area for your customers, similar to Nikeland, you'll need to take a few measures.
To create your virtual space, you must first choose a platform to build your virtual world. Venues with a huge client base, such as Roblox, Sandbox, and Decentraland, would be ideal for creating your virtual area.
Following that, you can purchase a plot of land on the platform. Land can be purchased directly from outlets at auctions or through other land owners via secondary marketplaces.
Begin constructing your universe. Each platform provides development tools to help you create your settings so they can communicate with their clients. The Metaverse is all about encounters. Customers will want to interact if you build an engaging environment with interesting games and other activities.
How Can Companies Identify the Best Metaverse Platform?
Metaverse Businesses must explore a variety of factors to determine which platform is best for their needs.
Here are some variables to keep an eye out for:
Payment Ease: The platform you choose should provide an in-game currency that is simple to get and trade.
Access: Is the platform exclusively available to VR users? Because most people do not have VR, a platform that consumers can access via a PC, mobile device, or tablet would provide better reach and visibility.
Platform Traffic: As previously stated, platforms like the Sandbox already have many daily users. It is advised to use popular media to reach as many potential clients as possible.
Integrations: For business owners to manage client data and deliver superior customer service, the platforms should be interoperable with chatbots and CRMs.
How Can the Metaverse Benefit Businesses?
The Metaverse has been dubbed "the social media of the future" by Mark Zuckerberg. By 2030, the metaverse market is predicted to be worth $824 billion. Because a major portion of a company's audience will be present in the Metaverse, businesses must pay attention to the potential this area affords.
Here are some of the reasons why you should start a business in the Metaverse:
Connect with Global Talent: Employees can communicate in virtual places and work remotely using avatars. An employee's location is no longer a constraint because they can put on a headset and enter a virtual office.
This can assist organizations in gaining access to top-tier talent, which increases production. The Metaverse allows businesses to create their virtual locations, so you can make your virtual office as interesting as you like.
Creating Virtual Stores: Businesses can engage with customers virtually to offer virtual and physical things. As proven by Adidas's Originals, which sold out minutes after their release, digital asset production can be an enormous cash stream for organizations. The sale of digital assets netted them roughly $23 million.
Businesses can also sell their digital assets by listing their products on secondary markets like OpenSea. This option is ideal for companies that wish to avoid building up their Metaverse. Metaverse firms can test demand for their items by placing an NFT collection for sale on secondary marketplaces.
New Customer Experiences: By employing innovative technology such as augmented reality (AR), businesses may allow customers to visually test out real-world products to see how they would look before purchasing them in real life.
For example, an interior design Metaverse company may show customers how different pieces of furniture would look in their homes. This participatory strategy builds client trust, leading to increased organization conversion rates.
What Is Risingmax Inc Metaverse's Line of Work?
Risingmax provides various businesses with community management, content moderation, and social media management services. Formerly known as Metaverse, the organization has assisted with the restraint and promotion of events on various metaverse platforms, including Second Life's Orientation Island, the CW's Gossip Girl, and others.
The company has identified a distinct area in which they may function: filtering user-generated content. When users are free to explore their inner creativity, some regulation is required to create a positive experience for all users.
Their business approach is unique because they have a global crew of remote moderators. The Metaverse provides a unique challenge to moderation. Because people of various ages are present, moderation is necessary to avoid creating harmful settings. We are here to help you,  our expert and experienced metaverse consulting team take care of your idea.
Risingmax established Cubeless to give businesses comprehensive privacy and data security solutions. Because the Metaverse is still in its early stages, there are many unknowns, so it is best to contact moderation specialists to ensure your consumers have a positive experience.
Conclusion
Because the Metaverse continually expands, there are countless new ways businesses can earn money in the virtual world. We hope you found this article useful in learning how to create a business in the Metaverse.