Today, almost 1 billion people use smart wearables daily. If you've been searching for a way to change your health habits then boy, do we have some news for you. With this article, we provide you with some of the best wearable fitness apps to save your day.
Now say goodbye to mundane workout routines and hello to a new era of fitness that is not just effective, but entertaining too.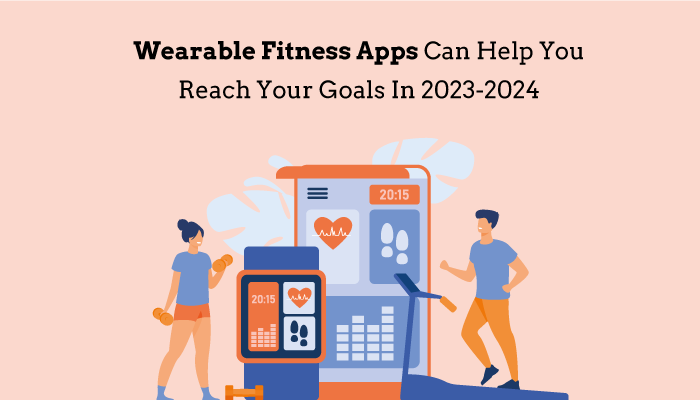 Gone are the days of bland workout sessions that feel like you are running on a treadmill to nowhere. In 23'-24, wearable fitness apps could offer even more advanced biometric tracking capabilities, including real-time monitoring of metrics like blood glucose levels and hydration levels, etc.
This data would provide users with a comprehensive understanding of their overall health.
Plus, wearable fitness apps might incorporate AI-driven personal trainers that offer customized workout plans based on individual-specific goals, body type, and health data. These trainers could adjust routines in real time to optimize results and prevent injuries.
The best thing about wearable fitness apps is they enhance their nutritional tracking features, providing real-time feedback on dietary choices. Even suggesting personalized meal plans based on an individual's activity level and goals.
Do you know how a fitness app works? If you want to know how a fitness app works then without wasting further time let's dive into the blog.
What is Wearable fitness app?
A wearable fitness app is a mobile app that works seamlessly with a wearable device, such as a smartwatch or fitness tracker, to track and monitor users' physical activity and fitness goals.
Plus, wearable fitness apps can track a variety of data points, including steps taken, calories burned, distance traveled, heart rate, sleep quality, and more.
Today, sustainability has become a greater concern; wearable fitness apps could incorporate features that promote eco-friendly choices. This includes tracking the carbon footprints of activities and encouraging users to engage in outdoor workouts.
On the other hand, a data breach is another concern for the users in fitness industry. With increasing amounts of data has been collected by wearable fitness apps they prioritize users' data security and privacy concerns to protect user information.
Types of wearable fitness apps
When it comes to the types of wearable fitness apps there are several fitness apps available in the market, each catering to different aspects of health and fitness tracking.
Activity trackers
The main motive of fitness apps is tracking the activity of the user, whether the steps they have walked, distance walked or run and calories burned.
Wearable devices are synced with wearable devices like fitness trackers and smartwatches to provide real-time data.
Exercise and workout apps
These types of apps track the activity of the user, as they offer a variety of workout routines, exercises, and training plans tailored to different fitness levels and goals.
Running and cycling apps
These apps tracks and improve running and cycling performance and sync wearable device with the GPS so that user can easily use map routes.
Nutrition and diet apps
Like all other apps this one tracks the nutrition and diet intake data of the user and syncing with wearable devices it helps to monitor the calorie intake and other things.
Mindfulness and Habit tracker apps
These apps can be enhanced by integrating with wearable devices to monitor biofeedback and guide users through mindfulness exercises and meditation practices.
Habit tracker apps is popular among wearable fitness app trends that helping user in adapting new habits.
Wearable fitness apps typically offer a range of features and functionalities guide which can include
Activity Tracking
These apps monitor and record various physical activities, such as steps taken, distance walking or running, stairs climbed, and more. They use sensors in the wearable device to collect data and provide, insights into your daily movement patterns.
Heart Rate Monitoring
Many wearable fitness devices come equipped with heart rate sensors that measure your heart rate in real-time. The corresponding app can track your heart rate during workouts, rest periods, and throughout the day, offering insights into your cardiovascular health.
Sleep Tracking
Some apps are designed to analyze your sleep patterns, providing information about the duration and quality of your sleep. This can help you make adjustments to improve your sleep habits.
Calorie and Nutrition Monitoring
Wearable fitness apps often allow you to input or sync data about your diet, helping you to keep track of your daily calorie intake and offering suggestions for healthier eating.
Social and Community Features
Many wearable fitness apps allow you to connect with friends and other users, enabling you to share your achievements, participate in challenges, and compete for fitness goals.
Integration with Smart Devices
Some apps can sync with other smart devices, such as smart scales, smart thermostats, and more, providing a more comprehensive view of your overall health and environment.
Top 5 Wearable Fitness Apps For Android And Ios
Apple Watch app: Accurate tracking
Price: Free/ $19.99  per month / $79.99 per year
The Apple Watch app is a companion for smartwatches that can be used to track fitness data, make calls, send messages, and more. It is available in a variety of models, with different features and prices.
However, the latest Apple Watch Series 7 has a fast processor and new health features such as an ECG app and blood oxygen sensor. The best thing about this Apple watch app is it can display notifications from your iPhone, such as text messages, emails, and social media updates.
Strava: Run, Bike, Hike
Price: Free/ $7.99 per month/ $59.99 per year
At its core, Strava is a powerful best fitness wearable apps tracker that records your  activities in detail. Whether you're biking through scenic routes, hitting the pavement for a run, or even swimming your way to glory, the app captures every aspect of your journey. Heart rate, distance, elevation-you name it, transforming your workouts into meticulously documented tales of athletic prowess. Thinking of Strava as your digital sports diary. As you log your activities, you're not just jotting down numbers; you're creating a story.
Nike Training Club: Fitness
Price: Free/ $14.99 per month/ $119.99 per year
Imagine having access to a team of elite trainers who can design personalized workouts just for you. With Nike Training Club, that fantasy becomes a reality. This app delivers an accurate selection of workouts, ranging from strength and endurance training to yoga and mobility sessions. Whether you're a beginner or a seasoned pro, NTC caters to your fitness level and goals.NTC offers a variety of workouts style, durations, intensity interval training bodyweight exercises, and everything in between, NTC is your one-stop shop for workout variety.
Google FIT: Activity Tracking
Price: Free
When it comes to Google, the comparison ends here. They provide a free activity-tracking app that is available on Android and iOS devices. It allows you to track your steps, distance, calories burned, and other fitness metrics.
While syncing with the wearable device it tracks user workouts, set goals, and provides notifications. However, it's free to use but it has some premium features that you can unlock with a subscription to Google One. The price of a Google One subscription depends on the amount of storage space you need. You can get 100 GB of storage for $1.99 per month and 2TB for $9.99/ month.
Fitbit: Amazing wearable fitness trackers
Price: $9.99 per month, $79.99 yearly
Another great app that specializes in wearable fitness trackers. With this app, user can easily track their fitness data from their Fitbit device.
Moreover, the app offers features such as sleep tracking, guided workouts, and challenges. With Fitbit premium, they provide guided workouts led by certified trainers. This feature can track your sleep quality and provides insights on how to improve it. It also provides a 90-day free trial of Fitbit premium.
Conclusion
With technology advancements, users are looking for ways to extract the maximum benefits of wearable technology. These apps not only track a variety of metrics but also notified one to adopt healthy habits. Plus, they can also be used to set goals, track progress, and receive feedback. We hope that with this blog you can choose the right fitness wearable app for you.
So if you are wondering How to Develop Wearable Fitness App then consult the cost with expert developers. And make sure to hire fitness app developers with experience in fitness niche.