Website traffic is one of the most valuable forms of online currency today. Without traffic, you have no one to market or sell to, and your company will be forced out of business in no time. Fortunately, there are many tools and platforms available that help you attract and retain relevant, targeted audiences. Twitter is one such platform.
There are several ways you can take advantage of Twitter's social media platform to drive more traffic to your blog. From optimizing your profile and bio with URLs to maintaining consistency, using key hashtags and @ mentions, resharing old content, and pinning tweets, let's dive into the top five ways you can increase your blog traffic today.
1. Use URLs and Social Proof in Your Bio
If your blog is hard for people to find, you're not going to get many views. So make sure you link your website on your Twitter profile so people can easily access your content without having to hunt for it. This link can go directly to your homepage, blog, contact form, product page, or any other landing page you choose.
And if you're having trouble choosing between two links to use, consider using tools such as Linktree, as well as linking one page in your Twitter profile and another in your bio like American Airlines did: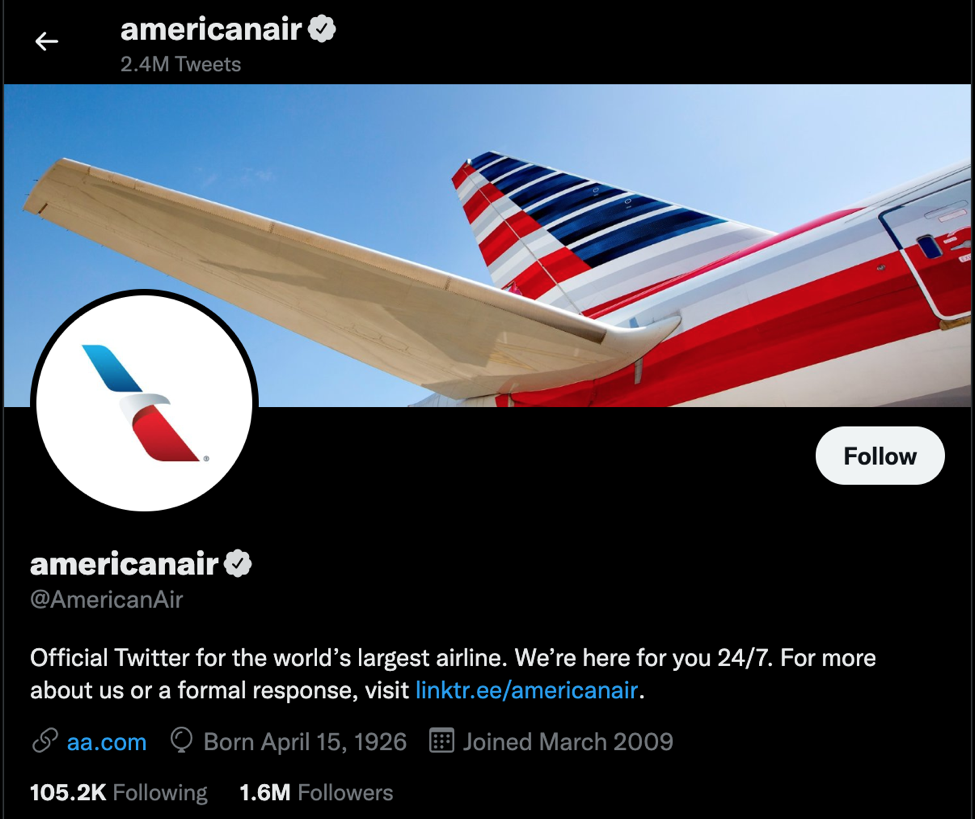 Image Source: @AmericanAir
Additionally, including social proofs in your bio can help make your brand stand out even more. They work to tell audiences exactly who you are, what services you provide, who your collaborators are, which awards you've earned, and much more.
2. Follow People Who Tweet and Mention Your Competition
One of the best ways you can increase traffic to your blog is by intersecting with audiences online. But who specifically should you be interacting with to gain top results? Well, the answer is simple: you need to start following individuals who tweet and mention your competition.
This works so well because it gets you and your brand in front of an audience who already cares about your industry and what you do. You don't have to fight to get them on board about your business type or platform nearly as hard as you would with someone new to your world because these individuals are already clearly engaged with it. They're sharing posts and tweets from your competition and enjoying that content, so they're much more likely to engage with you if you reach out.
Typically, this works when you search for topics you're currently talking about or some of your specific competitors to your business on Twitter. These searches will bring up other users who have mentioned those topics or shared @-mentioned content from those competitors recently. Then, all you need to do is follow and engage with them tastefully (AKA avoiding any spammy behavior) to see positive results.
Two easy ways to increase your blog traffic on Twitter are by using relevant hashtags and @ mentions to get your content in front of the right audiences and grow your business. These two tag types work in different ways to link your content with other topics, businesses, and people at your discretion to reach a wider target audience.
Hashtags are a great tool you can use to connect with the right audiences on social media. If you're looking to promote your original content or services, creating a unique hashtag can help you generate interest in your projects and draw more traffic to your site. You can also use more general hashtags that relate to your post's content to find users who are searching for that kind of information.
If your post is on life insurance, for example, you can use hashtags like #financialplanning, #lifeinsurance, #healthinsurance, and #insuranceagent.
LinkedIn used their platform to launch their #InItTogether campaign and use that hashtag across their Twitter account to grow their platform: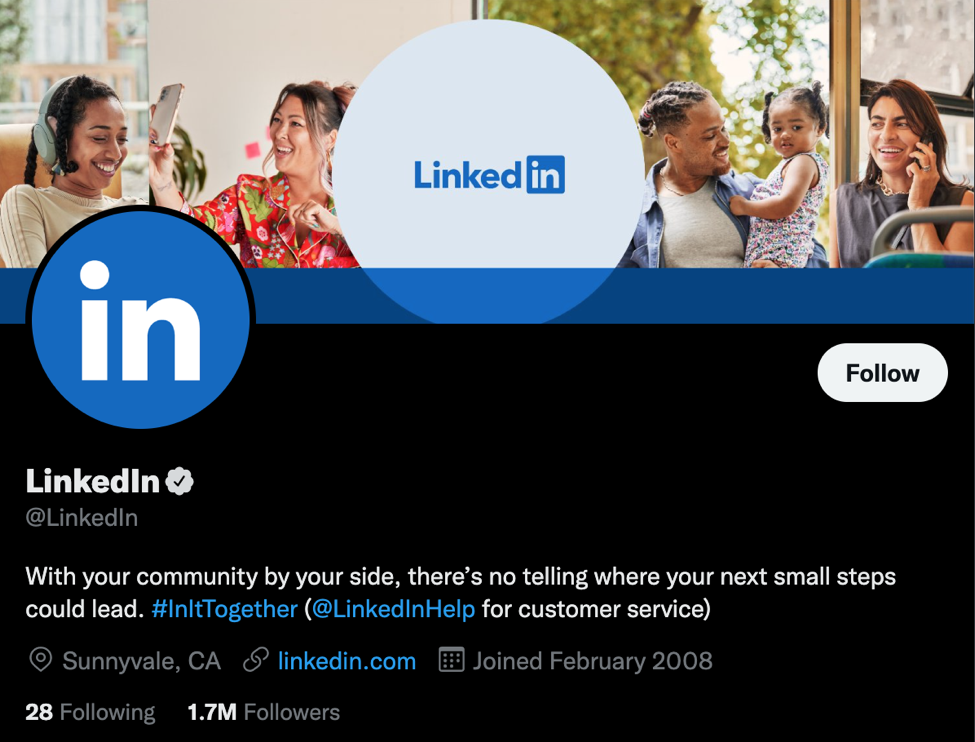 Image Source: @LinkedIn
@ Mentions
One more way you can gain follower attention is by tagging specific people in your posts with @ mentions. This essentially sends a public tweet directly to another user on Twitter to interact with them. You can use this method to connect with fellow bloggers, business peers, or even your followers to increase attention on your account and also read benefits of LinkedIn Marketing.
4. Be a Guest and Participate in Twitter Chats
Another way you can quickly grow your brand on Twitter is by actively engaging with Twitter chats. These chats are basically niche-specific corners of Twitter where individuals gather to talk about very specific topics. So, if you get the chance to act as a guest on one of these chats, you can primarily market to a targeted audience, but also establish your position as an authority in your field.
And even if you're not able to jump into a Twitter chat as a guest, don't let that dissuade you from participating. By engaging on Twitter chats–even as an attendee–you'll have the opportunity to show off your knowledge and skills to that same pre-tailored audience. And while this may not get you the same amount of exposure as a guest on one of these chats may, it will still get your content in front of the right audience which can go a long way in boosting your traffic and engagement across Twitter. Just make sure you stay on top of the chats in your industry, and you participate in them when they're most active to gain maximum exposure.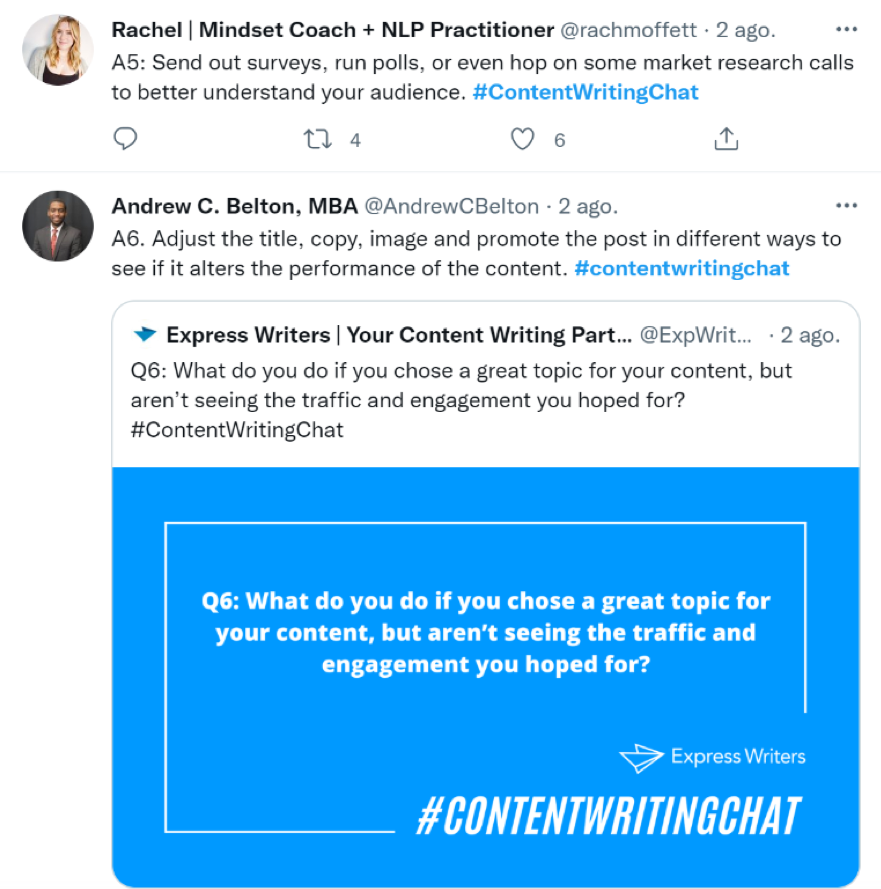 Image Source: #ContentWritingChat
5. Pin Key Tweets
You can pin a specific tweet to the top of your Twitter profile through the site so that everyone who visits will see that content before anything else you've posted on your page. You can change this pinned tweet as often as you like, and it's always best to keep it fresh with tweets that are serving in a high lead generation capacity.
For example, if you've shared anything recently about a new product, service, or success story that's getting a lot of attention, make sure to pin that tweet to your page instead of older posts that aren't generating as much new engagement. But if you're noticing that older pins have worked to grow your business a lot in the past, consider revisiting the post or topic to refresh it in your audience's minds.
Author Bio:
Sully Chaudhary, MBA, is an inbound/growth and content marketing expert with two self-founded businesses under his belt: WriterArmy, an award-winning premium content writing platform, and GrowthArmy, a growth marketing agency.