How do I set up unattended remote access?
Unattended remote access is a software feature that allows unattended remote access to a device over a network. It is particularly useful for managing IT infrastructure, performing remote software installations, accessing files, and resolving non-emergency issues. As people's telecommuting needs increase, there are many remote control software on the market that support unattended remote access. This article will introduce you to the best free unattended remote access software.
AnyViewer: The best free unattended remote access software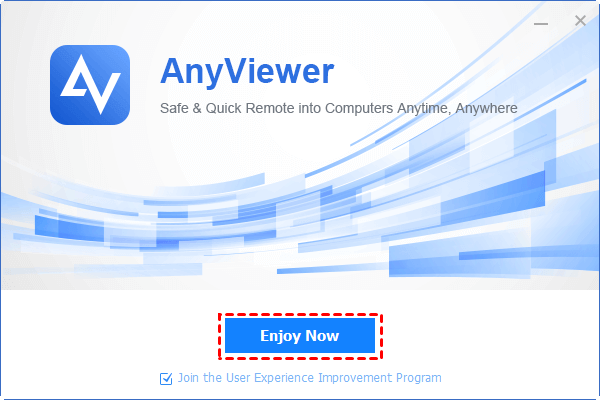 AnyViewer is a free and all-in-one remote access software windows 10. It can fulfill unattended remote access needs. Unlike other software that may charge separately for each type of access, AnyViewer offers free service for all types of remote access requests. This makes it an affordable and practical option for any user. Next, you'll see why AnyViewer is highly recommended and how you can use it for unattended remote access, so keep reading.
Why AnyViewer is recommended?
Learn about the outstanding features that make AnyViewer the preferred choice over many of its competitors.
AnyViewer offers a free version that has enough features and permissions to fulfill the user's needs. Some other programs on the market do not have a free version and some of the free versions have few and very limited features.
Seamless Compatibility. AnyViewer offers seamless compatibility across multiple devices, including Windows, iOS, and Android. this ensures easy remote desktop access across multiple platforms, providing flexibility and convenience.
User-Friendly Interface. AnyViewer offers flexible connectivity and is very simple to use with a clean interface. Through its simple design, users can easily navigate the software and establish remote connections without unnecessary complexity or a steep learning curve.
High-speed & stable connection. AnyViewer uses improved connection technology to automatically connect to the best servers for a faster and smoother remote control experience. Users can expect fast, seamless connectivity, efficient remote control, and uninterrupted workflow, even in demanding environments, enabling more timely solutions to the problems you face.
Secure connection. The software utilizes Elliptic Curve Cryptography (ECC) encryption as well as other industry-standard security measures to protect your sensitive information during remote sessions, allowing you to enjoy a secure connection.
Amazing features. AnyViewer supports not only unattended remote access but also unattended file transfer. Even unattended computers are able to transfer files, which is certainly the perfect solution to the frustration of most people who can't access files when working remotely. In addition, it also includes screen sharing, restart/reboot capabilities, multi-monitor support, etc.
How to use AnyViewer for unattended remote access
Downloading and installing AnyViewer on your devices is quick and easy. I will introduce detailed steps to teach you how to use AnyViewer for unattended remote access.
Step 1. Download AnyViewer on your device, install it, and launch it.
Step 2. Click "Sign up" under "Login" on both devices.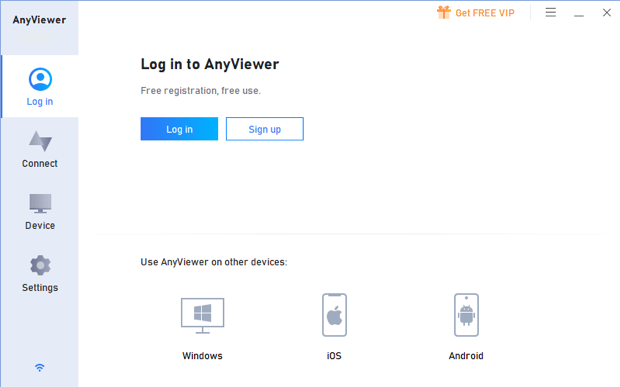 Step 3. To create an AnyViewer account, fill in the signup information.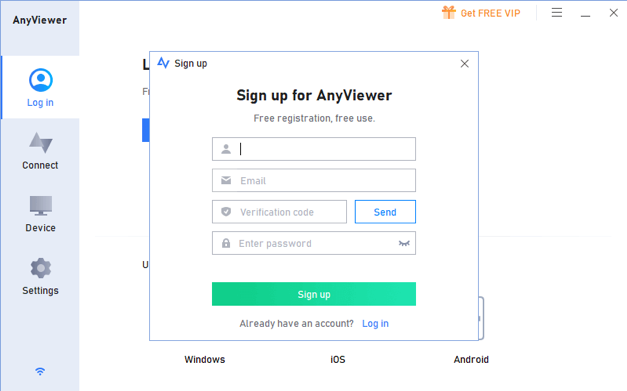 Step 4. After successfully logging in, your device will be automatically assigned to the account you logged in with.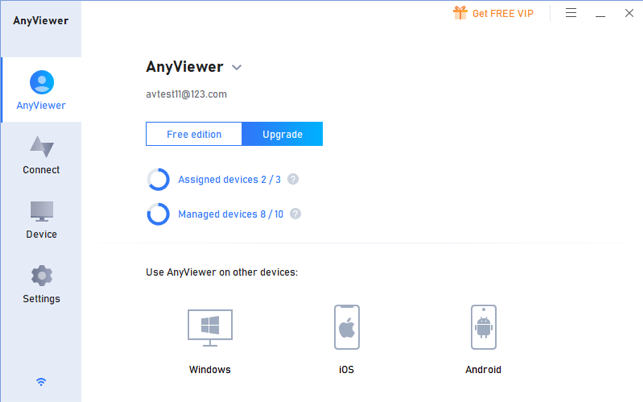 Step 5. On the other device, log in to the same account. Then navigate to "Devices" and choose the target device. Then click on it and select "One-Click Control." to achieve unattended remote access.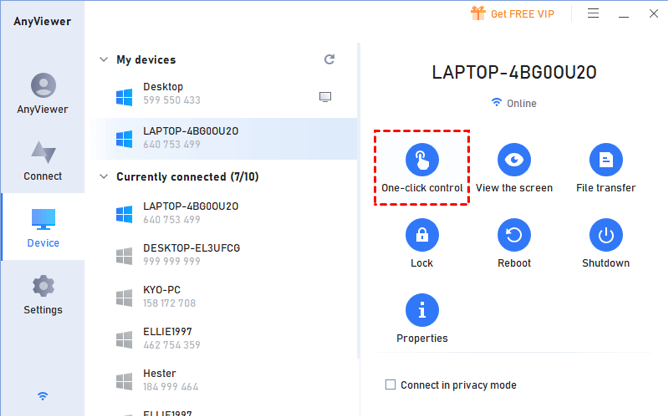 Tips: You can upgrade your account to a professional or enterprise plan to enjoy the following rights:
Unattended access can be granted to up to 100 devices.
Multiple devices can be connected to the same device simultaneously.
Enjoy numerous handy features, such as Privacy Mode, which allows you to deactivate the remote PC's keyboard and mouse and black out the remote screen.
Enjoy high-image quality.
…
Conclusion
If you need the best free unattended remote access software, AnyViewer will be your best choice. It offers seamless compatibility across a wide range of devices and a user-friendly interface for easy navigation. Whether you are a professional or a casual user, AnyViewer provides a comprehensive and reliable solution that gives you a comprehensive, efficient, fast, and secure service and experience.