Preface
With the development of cloud storage services, more and more people utilize them as a major way to store important files, photos and videos. Compared to traditional hard drives, cloud storage services are much more cost-effective. Due to their convenience and easier access, users can head to their files anywhere, anytime and from any device.
There are many excellent cloud storage solutions in the market, such as Google Drive, OneDrive, Dropbox, Google Photos, Amazon S3, Flickr, MEGA, etc. Each cloud service has its own benefits and weaknesses. And that's why a majority of users take advantage of multiple cloud services at the same time.
However, when you have different cloud storage services or accounts, you might find it troublesome to manage them, especially when you want to transfer files from one cloud to another. Previously, many would download files from one cloud and upload them to another. This is useful but time-consuming.
So, this article will take how to move Dropbox photos to Google Photos as an example to show you how to move files/photos/videos across cloud services with a practical tool – MultCloud.
MultCloud Review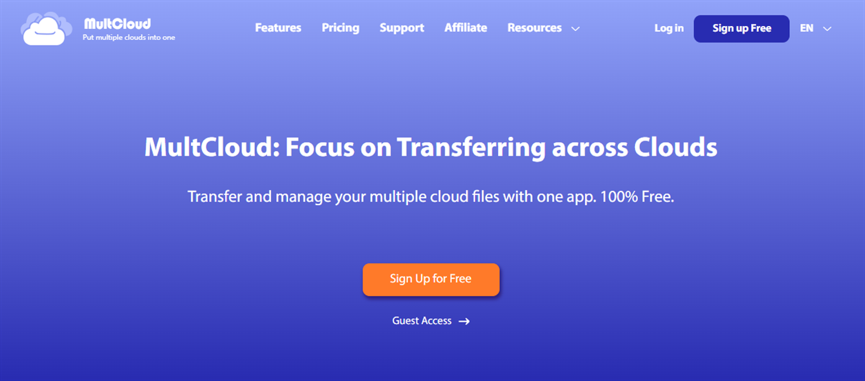 MultCloud is a web-based cloud storage management tool, which can be used to move files from one cloud service to another account/cloud service. Also, it can manage at least 30 cloud drives on only one platform. Now, we will walk you through the details of how this service can help you.
How to Transfer Data across Different Cloud Services with MultCloud
Currently, MultCloud is a cloud-based service that can connect to Google Photos, Google Drive, Dropbox, OneDrive, Box, etc. After granting MultCloud permissions, you can then manage files and make data migration between multiple cloud services in only one app.
There're some details:
Transfer Data between Different Services
When migrating photos from Dropbox to Google Photos, the download-and-upload method will consume lots of time and energy, especially when you have a large number of photos to move. Whereas MultCloud makes the process easier. You can transfer photos from one cloud to another directly and efficiently with only 3 steps:
Step 1: Register a MultCloud account for free.
Step 2: Add Dropbox and Google Photos respectively by clicking on Add Cloud.
Step 3: Go to Cloud Transfer, choose Dropbox as the source directory and Google Photos as the target directory. Finally, press Transfer Now.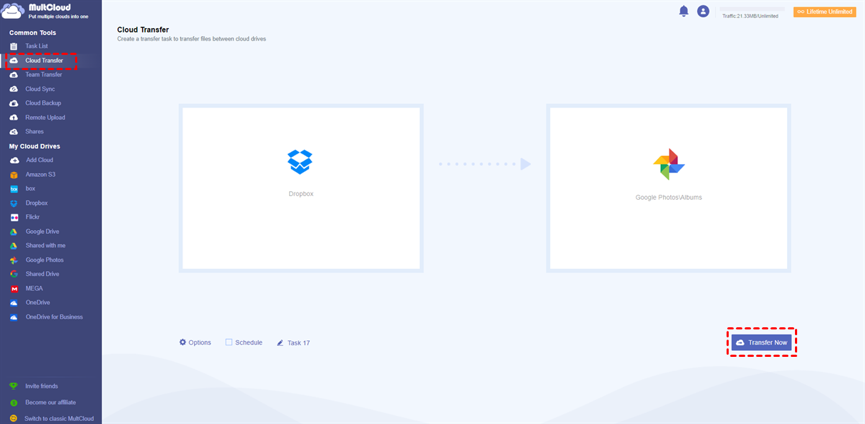 In addition to normal transfer tasks, you can set up automatic transfer tasks by pressing the Schedule tab. There're 4 options that you can select, such as transferring at a regulated time, daily, weekly, or monthly.
Sync Data between Different Services
When you want to sync files between cloud services, you can also take advantage of MultCloud, because it offers you 9 excellent sync modes, such as Mirror Sync, Move Sync, Update Sync, Cumulative Sync, Real-Time Sync, etc. Different sync modes have different benefits, and you can choose the one that you need.
Similar to the Cloud Transfer feature, the Cloud Sync feature of MultCloud allows you to set up auto-sync tasks as well. And the way to make sync tasks across cloud services via MultCloud is very easy. All you need to do is to go to Cloud Sync on the left navigation bar, and select the source and target directories. After that, you can start your sync task.
Backup Data between Different Services
On top of "Cloud Transfer" and "Cloud Sync", MultCloud also enables you to make data migration across clouds by backing up. There're many benefits when you want to backup files from one cloud to another by using MultCloud. For example, you can backup files between cloud services directly without downloading and uploading.
Besides, MultCloud offers the "Restore" feature, which means data can be recovered as long as you've backed up them between clouds via this service. In this situation, even though the data is lost on both clouds, you don't need to worry about it.
Final Words
Anyway, if you find it cumbersome to migrate data across cloud services, you can try it with MultCloud now. It's free to get started and MultCloud provides you with basic features to manage different cloud services easily, including uploading, downloading, sharing, etc. For example, if you want to backup a PC to Google Drive, you can use the "Upload" function of MultCloud.