No one size fits all! Now you might grasp this phrase in terms of a team or a t-shirt. It is completely up to you. But do you know what? If you mull over the above phrase carefully, you will realize that it associates well with eCommerce applications too. Yes, suppose that you are a popular costume seller in your locality who wants to establish an online store and boost your customer base. In that case, you might think of relying on "out of the box" solutions that can help you build a simple goods-selling site or app within a few minutes. Right? But there is a reason why some business owners look for customized solutions offered by a top eCommerce development company to place their trading platform on the cloud.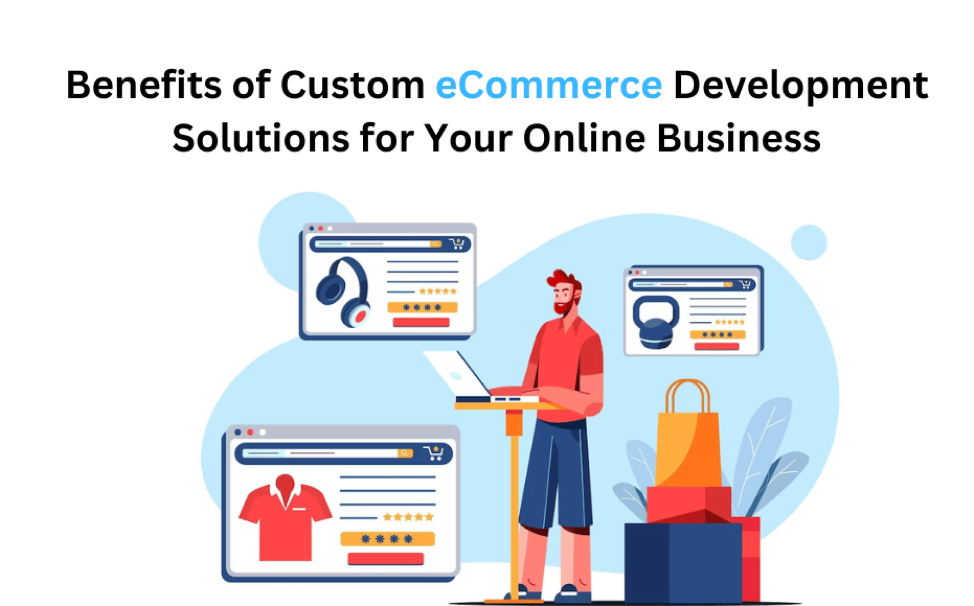 Wondering what? Well, when you have an "off-the-shelf" website builder at your disposal, you get limited features, standard designs, and predetermined controls to build and run your online store. Now these offerings might or might not fit your e-store's bill depending on its needs and preferences. Still, just for the sake of quick development and cheap expense, if you call on general website builders to build your online presence, you might reap some benefits in the short term but you will have to face many negative consequences in the long term. For instance, you might:
Not be able to showcase your different products in the best possible way
Fail to introduce different types of CTAs to your portal
Not succeed in holding your potential customers' attention for too long
Find it infeasible to design an engaging journey for your users
Lack the ability to expand your business after a certain extent
And all this will hurt your sales and thus your revenue. So, now the question comes, how can you steer clear of such difficulties down the road? Well, custom trading solutions offered by the best eCommerce web development company are the answer. Yes, once you get into a conversation with them, they will construct scalable eCommerce websites and applications for your brand that will suit your future growth expectations best. That means, with an extensible trading platform at your hand, you will be able to:
Add as many items to your store as you want
Exhibit your inventories to every visitor the way you like
Design an eye-catching user interface
Introduce additional elements to your web pages that can upsurge user engagement
Create a user journey that you think is most effective
The result? Well, you will be able to accomplish higher sales and generate considerable revenue. Ok? Understood? If so, it is time to view:
Key Statistics Offered By a Top eCommerce Development Company
There are no less than 2.14 billion online shopping consumers across the world.
eCommerce covers almost 18% of all retail sales.
Only 2.17% of all visits to eCommerce sites turn into purchases.
E-retail sales are predicted to boost to $5.4 trillion by 2022.
Amazon is forecasted to be responsible for 50% of total retail sales in 2021.
These are some of the figures that will compel you to get a smooth-running, gorgeous-looking, and customized eCommerce app developed right away. So, if that appears to be the case, we would suggest establishing contact with a globally-known eCommerce web development company immediately and getting your business expansion needs fulfilled.
Why Are eCommerce Portals so Special, as per a Top eCommerce Development Company?
Just for your information, eCommerce businesses are slightly different from traditional portals. For example, a standard eCommerce website is heavily focused on simplifying business transactions while transferring plenty of information to interested users online. On the other hand, general websites have to serve only one purpose, i.e., to promote a specific bunch of products and services. But it is an eCommerce website that takes the experience to the next level by giving its target audience an option to buy several products and services directly from them.
This feature is so convenient for online users that they prefer visiting cloud-based sites instead of physical stores when they need to get certain items at their leisure but without heading anywhere. In addition to all this, there is one more thing you might not know about eCommerce portals. The topmost eCommerce web development company says such portals have some key features specific to this industry, such as:
Shopping cart
Online payment
Wishlist
If you look carefully, the functionality of an online shopping platform is very similar to the offline retail industry with just one solid difference. The entire shopping task is performed through a built-in checkout process. A top eCommerce development company explains a case in point here that first a large number of website visitors will browse through all your commodities. Once done, they will peruse the necessary details of various items that they find interesting, such as:
Product descriptions
Size charts
Price tags
Colors or shades
Reliability or longevity details
Post they are satisfied with the given information, then only they will click on your CTA, i.e., the "Buy Now" button, followed by making a payment through:
Credit card
Debit card
Pay Later
Net Banking
Wallet
UPI
After that, they will wait for the concerned inventory to reach their doorstep. This makes the whole buying experience fantabulous and eCommerce sites extremely special. Because any buyer does not need to step out of their home to own their favorite things and also they can access their preferred online store:
At any time
From anywhere
Using any device
So, if you want to offer such experiences to your potential consumers right away, there is no point in hesitating to connect to an excellent eCommerce web development company.
Benefits of Custom eCommerce Sites, According to a Top eCommerce Development Company
Freedom to come up with any vision
The software specialists of a cutting-edge eCommerce web development company say that when you opt for readymade eCommerce platforms, all you will get are:
Designated features
Strict controls
Specific aesthetic
But what you won't get is the ability to write custom code. And that's where customizable eCommerce solutions come in. In such solutions, businesses can shape into reality any eCommerce vision they have without any restrictions. This state of being independent lets interested enterprises:
Fulfill their unique needs
Make big plans for their business
Create shopping experiences that make them apart from their competitors
Custom ordering process
Selling building materials is entirely different from selling live plants, and selling live plants is entirely different from selling electronic appliances. That means every sector or field is different and so are their goods. Some entail more complicated ordering processes, while the rest involve easy ones. Therefore, you must hire a well-known eCommerce web development company to build personalized solutions if your inventories need to be handled in a specific way.
Full control over customer experiences
 If you have ever used an "out of the box" eCommerce platform, you know well that most aspects of the customer experience are managed by some predetermined parameters integrated into the platform. Thus, it is no easy feat for certain entrepreneurs to run their businesses if they find it necessary to transform their customer experience. That's where the need to have a customizable eCommerce solution pops up, where entities can have a firm hand over each and every aspect of the customer experience.
The takeaway
Thus, if you want to build and leverage a customized eCommerce portal right off the bat, make sure to interact with a well-familiar top mobile app development company on the cloud, specializing in custom eCommerce website creation.
Author bio:- 
I am Lilly Gracia, a software engineer at iWebServices. It is one of the most reliable web and mobile app development firms, catering to tens of thousands of clients worldwide. Powered by a robust team of software professionals, including accomplished conceptualizers, user interface experts, web and mobile app developers, and frontend and markup specialists, we render everything your business would need to reach the zenith. Being a top mobile app development company, we guarantee to create a digital presence that your visitors will admire and your customers will love.