Changing the line spacing might make a Word document simpler to read and take notes on when printed. Change the spacing criterion in any version of Word, no matter whichever operating system, by following this guide.
To double space in Microsoft versions of 2019, 2016, 2013, click the Design tab at the top toolbar, then Paragraph Spacing, and then Double to modify the line spacing in the Word document to double.
How to Double Space Selected Text in Microsoft Word version of 2019/2016/2013?
If you only wish to double space a portion of Word text, pick the target text or paragraphs, then go to Home -> Line and Paragraph Spacing, and select 2.0 to double space the selected Word text.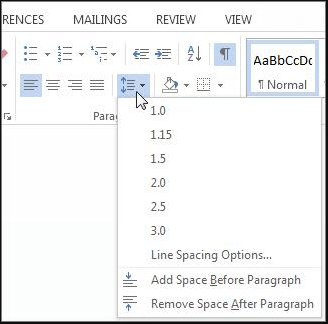 Alternatively, choose the text to be double spaced, right-click it, and select Paragraph from the drop-down menu. In the pop-up Paragraph window, pick Double by clicking the drop-down icon under Line Spacing. To save the changes, click OK.
How to Double Space in Microsoft Word 2007-2010
Changing the line space in Microsoft Word 2007-2010 differs differently from newer Word versions.
You can also use the option to the Home tab and right-click Normal in the Styles group. Then click Modify to open the Formatting window.
Then, under Formatting, click the Double Space button and then OK.
Aside from double spacing, Word has a plethora of other line spacing possibilities. You can choose any of these based on your needs when editing a Word document.
Video Tutorial:-
 Conclusion
Depending on the style of the text, you may need to modify the line spacing when typing in Microsoft Word. The procedure for enabling double spacing varies slightly across versions. As a result, you may find the need to rely on your instincts to adapt them to previous versions. We hope the information provided above was helpful to you!