Well, if you are using discord server with a big number of users, then it is quite normal to have a mismanagement issue so you need the help of discord server moderations. However, moderating a discord server is not a hard task as it seems to be because we have this well-known tool named mee6 bot.
Mee6 is an easy to use dashboard, with the help of this you will be able to configure all moderations, twitch alerts and levelling.
Now, if you are confused about how to use this mee6 discord bot then I will guide you about the same.
What does MEE6 Bot do?
This is a very simple tool which helps you to create a command whatever you dream of. By creating such commands, you can manage your discord support without any external help.
Overview of MEE6 dashboard
With the help of MEE6 dashboard you can control discord server as a result you can easily create different kinds of commands to manage your discord server. However, you can also share a welcome message to new members to inform them about the rules, topics and the ongoing events. You can also give them their roles when they join the group.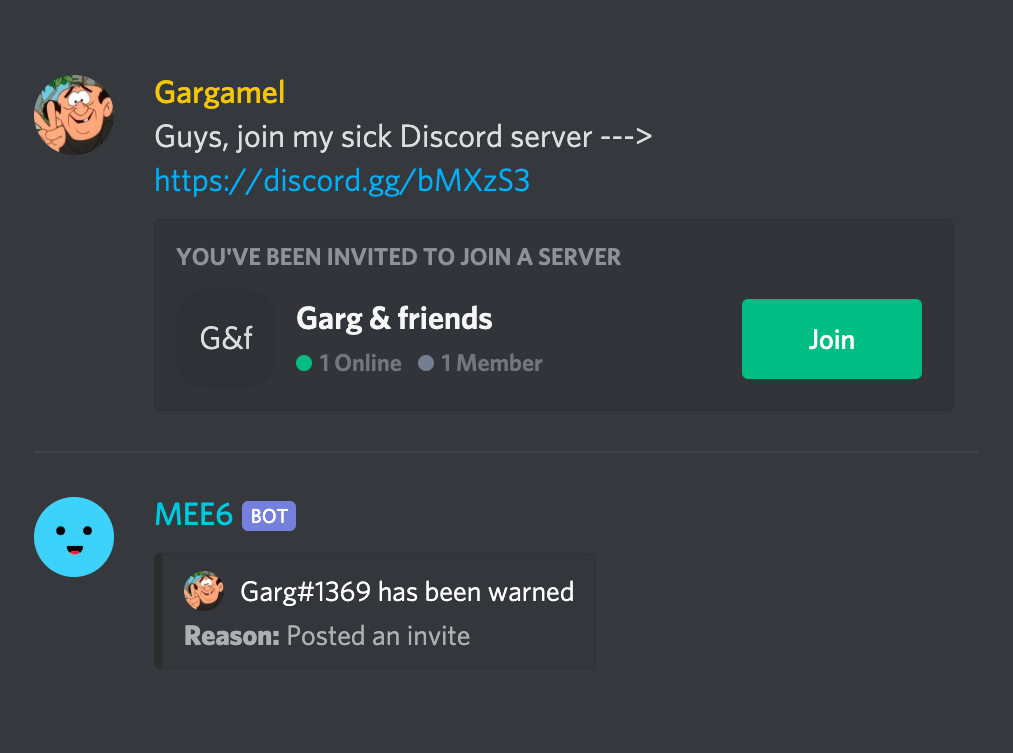 Also, you can give rewards to the most active users on your server which is a really great thing.
Benefits of MEE6 Discord Bot
With the help of this, you can create custom commands very easily.
You can create a welcome message to new members and also share their role immediately.
You can offer rewards to your members to keep them active.
It also offers you high customizable moderations that help to protect from trolls and other attacks.
Easy to use dashboard so that you can manage your MEE6 bot very easily.
How to install MEE6 discord bot?
Step 1- first of all you have to go to the mee8.xyz website and sign in there with your discord account by clicking log in button which at the top menu.
Step 2- once done with login, now select the server.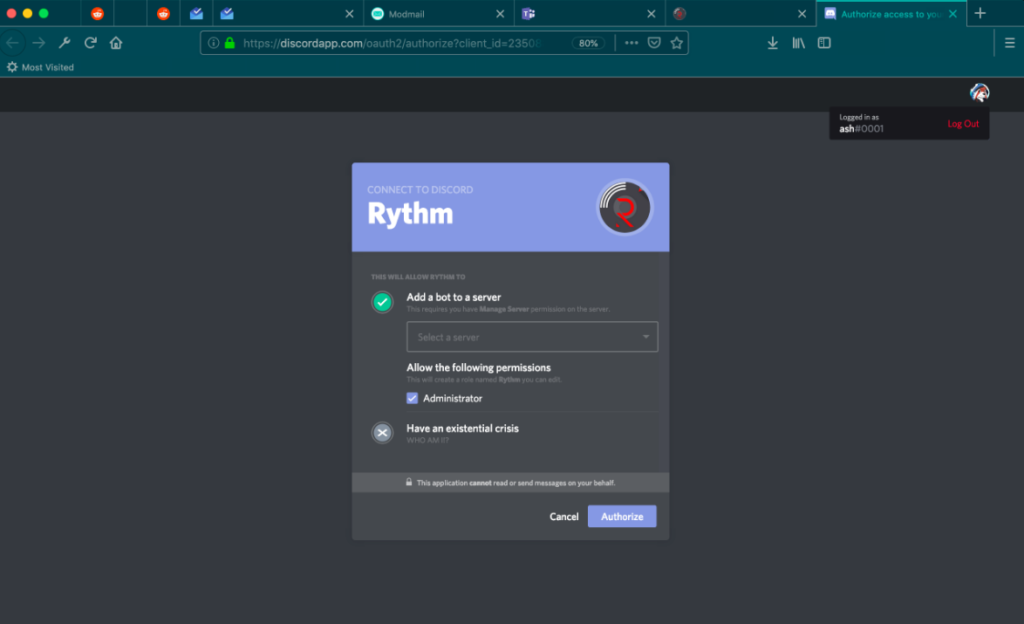 Step 3– now, on the next screen you will find a setup mee6 button, then click on it and go to the next step.
Step 4- now, the popup window will appear from where you have to select the continue button.
Step 5- now, you have to select what kind of permission you want to give your mee6 bot. For this, you just have to go through the list and unselect the permission which you don't wish to give to mee6 bot.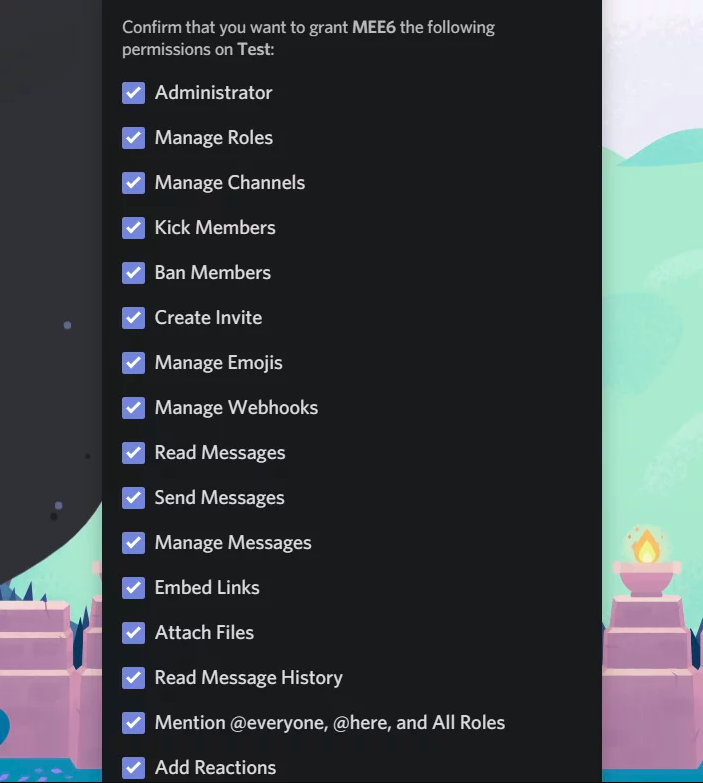 Step 6- now click on the Authorize and follow all the screen instructions which are given.
Step 7- after all this you can see a lot of options that help you to set up different kind of things. Like you can create commands, you can share messages to new users etc.

How to use MEE6 Discord Bot?
First, go to https://mee6.xyz/dashboard
Now, login with your discord account.
Now select the discord server where you want to add the mee6 bot.
Now click on plugins and then on Twitter.
Now, click add button.
Now, fill out all the information.
Click save and you done with the process now.
How to create custom commands with MEE6 bot?
First of all, go to the MEE6 dashboard and click on custom commands.
Now, click on text commands.
Then, add a command name, add action, define how you want your bot to respond, give a command description and now you are done with creating your command.
Conclusion
So, this is all for how to set up a MEE6 bot on your discord server. However, it is amazing to use discord bot which helps you to manage your discord server in a better way.
FAQ's
1. What is MEE6 Bot and what does it do?
– MEE6 Bot is a popular Discord bot that offers a variety of features to enhance and manage Discord servers. It can automate moderation tasks, provide leveling and ranking systems, offer customizable welcome messages, and much more.
2. How do I invite MEE6 Bot to my Discord server?
– To invite MEE6 Bot to your Discord server, you can visit the MEE6 website and follow the instructions provided there. It typically involves logging in with your Discord account and granting the necessary permissions for the bot to function.
3. Can I customize MEE6 Bot's behavior and commands?
-Yes, MEE6 Bot offers a range of customization options. You can configure the bot's moderation settings, create custom commands, set up auto-moderation rules, and personalize welcome and farewell messages. The bot provides a dashboard where you can easily manage these settings.
4. How does the leveling system in MEE6 Bot work?
–MEE6 Bot includes a leveling system that assigns experience points (XP) to members based on their activity in the server. As members engage in conversations, they earn XP and progress through different levels. Server administrators can customize the XP requirements for each level and set up rewards or perks for achieving certain milestones.
5. Are there any premium features or subscription plans for MEE6 Bot?
-Yes, MEE6 offers a premium subscription plan called MEE6 Premium. It provides additional features such as custom commands, advanced moderation options, priority support, and more customization options. The premium plan is available for a monthly or yearly fee, and it offers enhanced functionality for server owners who require advanced bot management capabilities.