When we were facing the COVID-19 pandemic, one thing that has drastically changed is- the way we work. Most of us were working online. Although remote work culture is not a new thing. It was there but only a few of them were actually using it.
But now, things have changed, As of now, approx 12.7% of full-time employees are doing their work from home. And, as per the same report, 28.2% of employees are in a hybrid model.
Besides, it has also been seen that 16% of companies are fully remote. And, probably, in the coming time, this data has the potential to grow exponentially. If you are a startup or even a well-established company, remote work culture offers lots of benefits.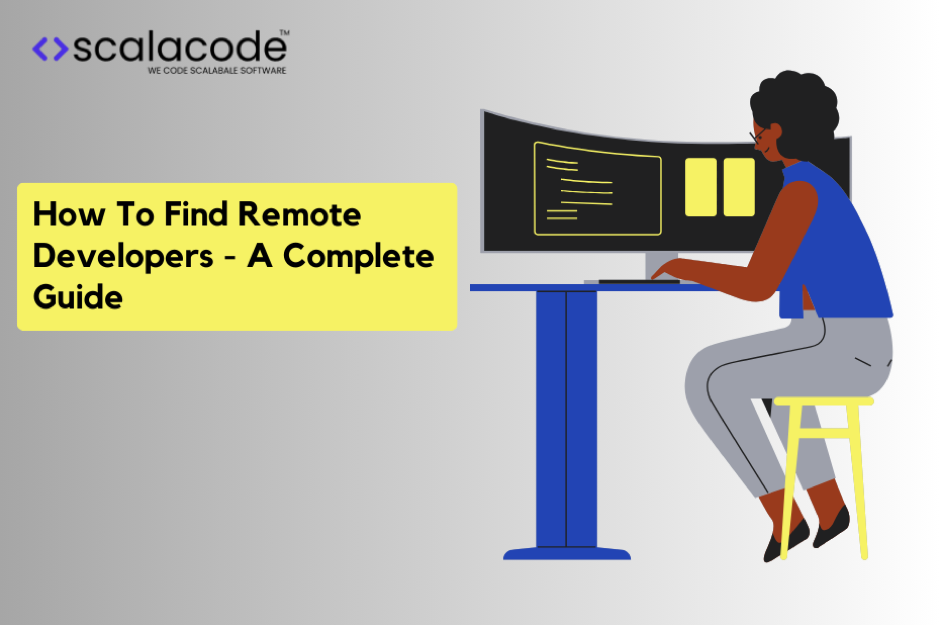 However, one crucial aspect of remote work is finding talent. The right talent contributes to your team's success. So, if you are thinking of having such talent in your team for the development of your product, then you must stick to this blog.
This complete guide will explore effective strategies and techniques to help you find remote developers and build a strong remote team.
Firstly, let's find out the importance of remote developers.
Why Should You Consider Hiring Remote Developers?
Undoubtedly, when you hire remote developers, it brings numerous benefits, and it's not only about cost cutting. Let's break down these benefits for both employers and employees.
Advantages for Employers
Reduced Costs: Remote work carries the potential to eliminate expenses associated with stationery, office space, utilities, and supplies. This will save your company money.
Access to Global Talent: When you hire remote developers, the best part- you're not limited to local talent. Yes, it's easy for you to tap into a pool of skilled professionals globally.
Enhanced Productivity: In one of the global surveys conducted by Statista- it was mentioned that approximately 60% of respondents have experienced a boost in project developer's productivity if there is a setup of remote work.
Advantages for Employees
Flexibility: Remote workers value the flexibility of setting their own schedules and working from anywhere. By hiring remote developers, you can attract a broader range of candidates seeking this flexibility.
Improved Productivity: As mentioned earlier, data from Statista suggests that remote work positively impacts developer productivity. This might be due to changes in communication methods, work hours, and the elimination of commuting.
In short, hiring remote developers not only saves your company money and broadens your talent pool but also offers your employees the freedom to work on their terms, ultimately resulting in increased productivity.
Why Finding Remote Developers in 2023 Can Be Challenging?
Though there are numerous advantages of remote collaboration, some of which we have talked about in the above paragraphs. But do you know what- the journey of finding remote developers is challenging. Why we are saying this?
Let's take a look at some of the most common hurdles you might face when building a robust remote development team.
Identifying High-Quality Candidates
The internet offers a vast pool of potential candidates, but who is the right one for you can be a daunting task. Posting a job ad can result in an overwhelming number of responses.
Sorting through thousands of CVs, reviewing applicants, and ranking them is a formidable challenge. Therefore, the process of verifying responses, assessing candidate quality, and distinguishing the best should not be underestimated.
Managing Job Postings
Hiring a remote development team not only requires creating and posting job ads but also managing the job posting process.
Yes, that's right.
Handling multiple resources is time-consuming. and resource-intensive. You will require patience and energy to check out various social media platforms, job sites, and most importantly sift through one application to another.
Besides that, writing an effective job posting is not as easy as it seems. You have to be very specific with your requirements and instructions.
Communication and Language Barriers
The most common challenge that many of you may face is Language barriers. In any development process or business partnership, communication has its own importance. Having a common language within the team remains essential for smooth and efficient teamwork.
If it is not established in the right way, there are high chances of failure. Language barriers can restrict your option to hire the best talent.
Market Oversaturation and High Rates
Another noticeable challenge in hiring qualified and experienced remote programmers is the intense competition in the market. The software development industry is continuously growing, leading to a high demand for skilled professionals.
This, in turn, results in companies vying for exceptional candidates and, consequently, high rates for skilled remote software developers.
For example-
| | | | | |
| --- | --- | --- | --- | --- |
| Programming Language | Average Hourly Rate for a Developer in the USA | Average Hourly Rate for a Developer in the EU | Average Hourly Rate for a Developer in Ukraine | Average Hourly Rate for a Developer in India |
| JavaScript | $52 | $47 | $22 | $15 |
| Python | $55 | $45 | $30 | $20 |
| SQL | $45 | $60 | $10 | $12 |
The demand for developers significantly exceeds the available supply, making it challenging to hire specialists in this competitive environment.
Where To Find Remote Developers?
You can rely on some of the websites and platforms given below to find your remote developers.
ScalaCode: A top choice for hiring experienced remote developers from India with a comprehensive outsourcing infrastructure.
Turing: An AI-powered platform with a vast pool of developers from various fields and quick assembly of teams.
Toptal: Offers a competitive and transparent hiring process with access to elite developers.
Remotebase: Provides expert remote software engineers and maintains quality through regular reviews.
Fiverr: A freelancing platform with experienced developers divided into Pro and Business categories.
Upwork: A global freelance marketplace to find and hire expert developers.
Now, we will discuss the best way to find and hire remote developers.
How To Hire Remote Developers?
Step 1: Finding Candidates
When you have set your mind to hire remote developers for your project, your first step is to gather a sizeable pool of potential candidates. Why? So that you can carefully select the best fit for your team. You can source talent for your project using three main approaches:
Job Ads: You can hire remote software engineers by creating and posting job ads on platforms such as Indeed or even on your company's career section on your website.
Freelance Marketplaces: For short-term development needs or specific projects, consider hiring developers from freelancing portals like Upwork and Fiverr.
Social Media: Explore social media platforms like LinkedIn, Facebook, Twitter, and even Instagram to find qualified developers. Many job-related groups on these platforms allow you to post job openings, and interested candidates can easily connect with you.
Step 2. Sorting and Screening Applications
To hire remote software engineers efficiently, the bulk of your time should be devoted to the critical task of sifting through applications and screening potential candidates. Here's what you can do to make your screening process more efficient:
Application Review: Carefully review each application to identify candidates with the qualifications and experience you're looking for.
Portfolio Evaluation: Examine their portfolios on platforms like GitHub and Stack Overflow to assess their previous work and expertise.
Cultural Fit: Ensure candidates align with your company culture and values, as a harmonious fit is crucial for successful collaboration.
Step 3: Conduct Soft Skills Interviews
Once your initial screening process is done, you have to arrange an individual interview with each candidate.  Yes, one-on-one interaction is necessary.
You will say how this is possible in remote hiring. Well, there are lots of collaboration tools available in the market like Skype, Zoom, Google Meet, and so on.
Use these tools to conduct a video interview. It is essential to cross-check the candidate's soft skills, attitude, and values. Soft skills are as important as technical skills.  If candidates are not good with soft skills like communication and teamwork, it is hard to continue with them.
Step 4: Conduct Technical Interviews
The best developers possess a combination of both soft and technical skills specific to the role at your company. Hence, it's crucial to conduct both soft skills and technical interviews. These interviews can be combined into a single session or held separately.
You can let your senior engineer, team lead, or technical architect lead a technical interview. The objective is to assess the candidate's problem-solving skills. You have to test the coding standard of your remote developers.
For this, you can either ask a developer to participate in a coding challenge or just ask them to build MVP using the language and framework of your choice.
Step 5: Extend Offers and Onboard
After being impressed with the technical and soft skills, you have to extend an offer. You and your development partner have to sign a contract.
Conclusion
We have wrapped up everything that you need to know to find and hire remote developers for your project. Hope this article has been helpful.